September 2, 2020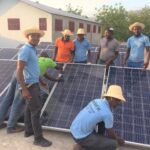 Last March, all schools in Haiti were ordered to close due to Covid 19. The Beyond Relief Trade School was 3 1/2 months from completing the 2019/2020 school year. At that time no one knew if or how Beyond Relief would be able to finish they year. After being shut down for five months, the Haitian government allowed schools to reopen on August 10. The staff and students are all well and not affected by Covid. Mackel had been working on a few different plans on how to continue the classes depending on what the government allowed.
For the 2019/2020 classes, they started back up on August 10 and will finish in October. Their graduation will be in January. The classes for 2020/2021 will start in October and run into July. The graduation date has not yet been determined.
Mackel made good use of the time that the students were not in the classrooms. He had cement poured in the courtyard so the students could have some additional space for working. The outside of the building has been plastered to help prevent the cement bricks from breaking down due to weather erosion. And work on the bathrooms for the students has continued.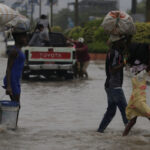 Hurricane Laura hit Haiti recently. Port Au Prince suffered damage, but everything in Saint Louis du Nord was fine.
With so many hardships that continue to hit Haiti, we thank God that he continues to protect the school. The economy continues to be very bad so starvation is still an issue. Beyond Relieve has tried to help the staff by shipping in a crate of food that was sent just before Covid. Recently the board agreed to give the staff a bonus to help them at this time.  It can't be said enough that is all of you financial and prayer support that makes all of this possible. Thank you so much!
God bless you and keep you well.